Wave goodbye to the woeful weeping and wishy-washy wishing of Pisces season, and get ready to kick some ass. The Sun entered spirited and assertive fire sign Aries on March 20.
Aries season, which runs until April 19, is a season of pioneering, inspiration and motivation. That's because Aries is a cardinal fire sign, and in astrology cardinal means initiating and fire means action. Expect to trailblaze and set your personal goals on fire. (Not literally, of course. Unless your goals have to do with pyrotechnics…)
During this time of the year, we have a me-first mentality, we are excitable and energetic — oh, and our confidence is through the roof. Independence is super important right now, and so are physical activity and chasing seemingly unreachable goals. This is due to the fire sign's innate enthusiasm for newness and its direct and passionate approach to … well, everything.
Sure, we might get a little headstrong, hot-headed and overzealous, but if there ever was a time when you can become a self-made mogul and initiate new creative projects or inspiring ideas, it's during Aries season.
In typical action-loving Aries fashion, 2022 Aries season is filled with tons of planetary action. But don't you worry about tracking any of it, I've got all that covered.
So, without further ado:
Your Cosmic Weather Forecast for 2022 Aries Season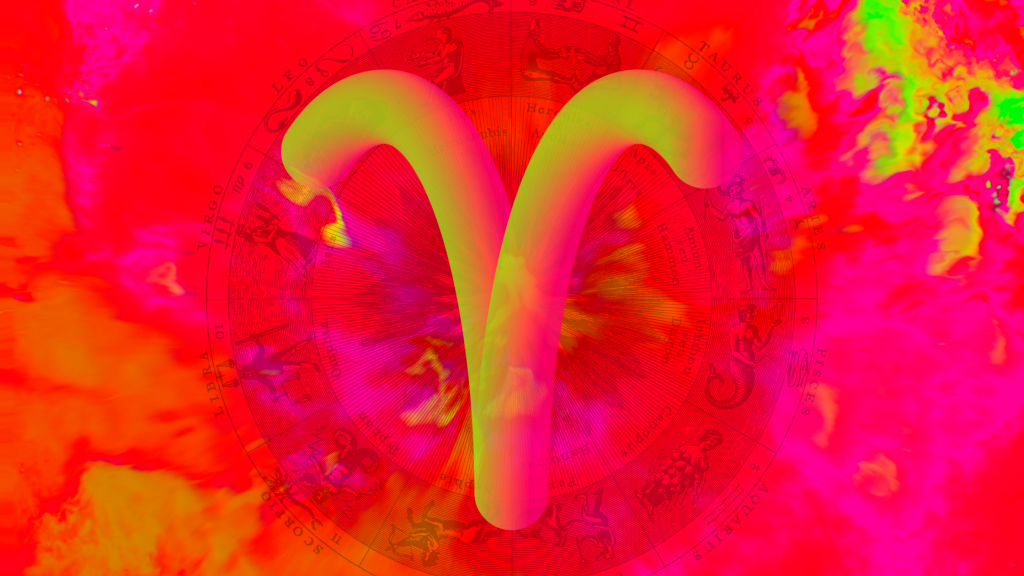 On Mar. 27, Mercury, the planet of communication, enters Aries. This transit ignites your go-getting mentality, putting your focus on hard-to-reach goals and mental challenges, while also making us more direct. During Mercury in Aries, tact is lacking and we say exactly what we mean — for better or for worse.
The 2022 Aries new moon takes place on April Fool's Day, but it's no laughing matter. A new moon in Aries is a powerful lunation for setting new goals and pursuing new opportunities.
Mercury is close to this new moon, and Mars and Saturn are moving towards a conjunction in Aquarius. These two transits make it ten times easier to plan for the future and see exactly what you have to do to achieve your goals.
Starting April 5, Venus, the planet of love and relating, enters dreamy water sign Pisces until May 2. Venus in Pisces helps us tap into our yin side, making us more affectionate, more creative and more compassionate towards our loved ones.
April 10 sees another movement of Mercury. The speedy planet shifts into leisurely earth sign Taurus, helping us take a more deliberate (and less frantic) approach to any end-of-the-semester projects. This transit of Mercury in Taurus slows our thoughts so we are able to write and study more mindfully, and reduces the pace of our day-to-day life. No more hurry scurrying!
A very rare transit takes place on April 12. Jupiter, the planet of luck, is conjunct (or, perfectly aligned in the same sign and degree) as Neptune, the planet of fantasy and idealism. This is one of those once-every-13 years sort of transits, so it's a big deal.
(Actually, this Jupiter-Neptune conjunction in Pisces only happens every 150 years, so it is a HUGE deal!) Your faith in the future and belief in something bigger than you expands exponentially when Jupiter and Neptune come together this way.
On April 14, another planet joins the Piscean party. Mars, the planet of action and energy, enters Pisces, which will see us chasing rainbows and seeking the sublime. More accurately, we'll be running around in circles, pursuing anything vague and elusive.
And last, but certainly not least, we head into our final few days of Aries season with a full moon in Libra on April 16. This full moon promises to be an optimistic one, because Jupiter in Pisces is still closely aligned with Neptune. Plus, Mercury in Taurus and Venus in Pisces are harmonizing, and so too are Venus and Uranus in Taurus. All in all, it'll be a high-vibing day.
Enjoy the high vibes while they last, because when Taurus season rolls around on April 19, we're staring down the barrel of Pluto Retrograde, eclipse season, and Mercury retrograde. But all that is eons (or *ahem* four weeks) away…