22 October 2019
Caitlyn Dieckmann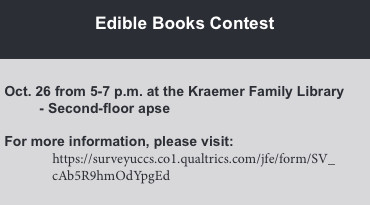 Do not be fooled by the title. The Kraemer Family Library will be hosting an "Edible Books" contest in which participants and attendees can enjoy food and submit their own food entries based on descriptions within a book, characters or places in a book and/or book-based puns.
Instruction Librarians Susan Vandagriff and Jennifer Eltringham hope to celebrate books through the contest and give students something to do on a Saturday. They want students, faculty, staff and the Colorado Springs community to come together over something silly and fun.
Vandagriff explained that last year's event was enthusiastically attended yet small. She said, "This year, we're hoping for more entries, more fun and to be surprised and delighted by the Edible Books that folks bring in."
UCCS and Colorado Springs community members can come together to show off their creative dishes that represent books and enjoy the company of fellow book lovers.
According to Vandagriff, entries will be judged by the Heller Center curator, Ronda Goodman-Gaghan and one of Pikes Peak Library district's librarians. The dishes will be evaluated based on their artistic and literary merits.
Prizes will be awarded for Best Children's Entry, Best Literary Entry, Best Visual Entry, Best Overall Entry and People's Choice.
"Our prizes are literary themed cookbooks and $25 gift cards," said Vandagriff.
Vandagriff and Eltringham want UCCS students and community members to enter the contest and join the fun. No actual culinary expertise is needed to win.
"It's low pressure and fun," Vandagriff said. The more creative and sillier, the better.
Participation is open to students, faculty, staff and the public. Group entries are also encouraged to enter the contest as well.
The contest will be hosted at Kraemer Family Library on the second-floor apse on Oct. 26 from 5-7 p.m.