Cambrea Schrank and Annika Schmidt
[email protected], [email protected]
UCCS' five Excel Centers moved online when the campus first went remote in March and will continue to operate online for the rest of the fall semester.
Despite this challenge, the directors of the Excel Centers reassure students can still get the support they need through remote services.
Jesse Perez, Excel Languages Center
Jesse Perez is the current interim director at the Excel Languages Center. When asked how the center has adjusted to operating remotely, Perez responded: "I will admit that it has been a challenge for both our student staff here and the students that we serve: our reputation is very much centered around community building and cultural exchange. In the past, the center has always been full of students with lots of conversations happening."
According to Perez, when the center went remote, they lost many of those meaningful connections but are working to maintain as much student engagement as possible while online.
"Our tutors have found online to be very functional," Perez said. "An important thing to remember is that our tutors are really working in isolation. One of the great things about getting to work in an Excel Center is constant engagement with other people. Many of our tutors are at home. Normally, there would be life and conversation happening around you. My tutors feeling a little down, honestly, because they miss the in-person connections."
Perez explained that the center tries to work collaboratively with students, rather than doing one-on-one sessions.
"We have been creative in our approach." Perez said. "We are utilizing Teams for our tutoring sessions. We offer tutoring, but we also offer our conversation tables. Our conversation tables were very popular when our center was open [on campus]. People could be at varying different levels with learning different languages, and that was a great place to come practice."
Conversation tables function much in the same way as they did in-person: students join the tables on Microsoft Teams, and tutors and other students are there to check in and help them practice. A schedule for conversation tables can be found here.
The Excel Languages Center is also hosting culturally relevant events to promote student involvement and learning. So far, they have hosted a Japanese movie night on their Teams channel. Perez said that students were able to watch the film, and then tutors were also available for questions and conversation.
"We welcome students to check us out. We want to work with students, and we want to grow our center. We understand that many students would not graduate without knowing that resources like this exist," Perez concluded. "We are here for them."
Vickie McCoy, Excel Communication Center
Vickie McCoy has been the interim director at the Excel Communication Center for two years but has worked at the center for five years.
"When we are in the center with people moving around, we have hundreds of visitors. The biggest difference is that we are all working online, and we have technical issues sometimes," McCoy shared. "[Student engagement] has stayed about the same. I think the biggest reason for that is because for the last five years, we have offered some of our services online anyway, so the only thing we did was expand what we are offering online."
McCoy said online services make it easier for students who are not on campus to use the center as a resource. For example, a student who wants to do a presentation practice or mock interview can do it from the comfort of their own home.
"There are not many people out there who say 'I love to give a speech! It's just the best thing ever!' So, it's nice to have that private one-on-one online and actually in a more comfortable zone, especially for the student," McCoy said.
McCoy believes good communication skills are important, regardless of the degree a student is getting or the work they want to do. She encourages students not to let the online format deter them from using the center and strengthening those skills.
"We work one-on-one anyway, the only that this is different is that you are looking at us on a screen and we are looking at you on a screen. Any feedback you are getting is coming from a peer tutor. That's really important — we are not teachers and we are not here to judge. So, if you can feel better about [your communication skills] and you can do it for free by appointment Monday through Friday, why not take advantage of that?" McCoy posed.
One-on-one sessions or group practice are available online via WebX and appointments can be reserved here.
Jerry Phillips, Excel Science Center
Jerry Phillips is the director of the Excel Science Center and has been for the last 15 years.
The mission of the Excel Science Center is to provide the best academic support possible for students. According to Phillips, changes to the way the center operates have come because of the switch to remote learning, having most classes on remote platforms.
"We used to simply invite students to come into the center, sit down, have a cup of coffee, find a place to study, find a place to meet with friends, just relax," Phillips recalled. "With all of the remote learning, all the support is almost exclusively limited to academic support, although we are still available just to talk to students if they have issues with anything that relates to their lives or academic programs."
The Excel Science Center, as well as the Excel Math Center, are the only two of the five centers that are also seeing students in-person as well as online. These in-person interactions are on a limited basis because they must maintain social distancing.
"The Science Center is a bigger facility so we can accommodate more students. We have had, max, about 20 students. Normally, we would have about 100," Phillips said. "In the Science Center, we do not worry about appointments — you just drop in."
"The student [tutors] are very smart individuals, they are fairly flexible, very adaptable and pretty technologically astute, so they are adapting very well, which allows them to help students with any issues they may have," Phillips said.
Remote tutoring through the Excel Science Center can be accessed here.
Matthew Balk, Excel Writing Center
Matthew Balk, director of the Excel Writing Center, has expressed that the mission of the writing center has remained the same despite challenges presented this year. The Excel Writing Center strives to "provide all UCCS students with the best academic support on campus," Balk said via email.
The Writing Center has been operating entirely online this semester. In addition to offering student consultations and other in-person activities, the Writing Center formerly offered a communal space for students.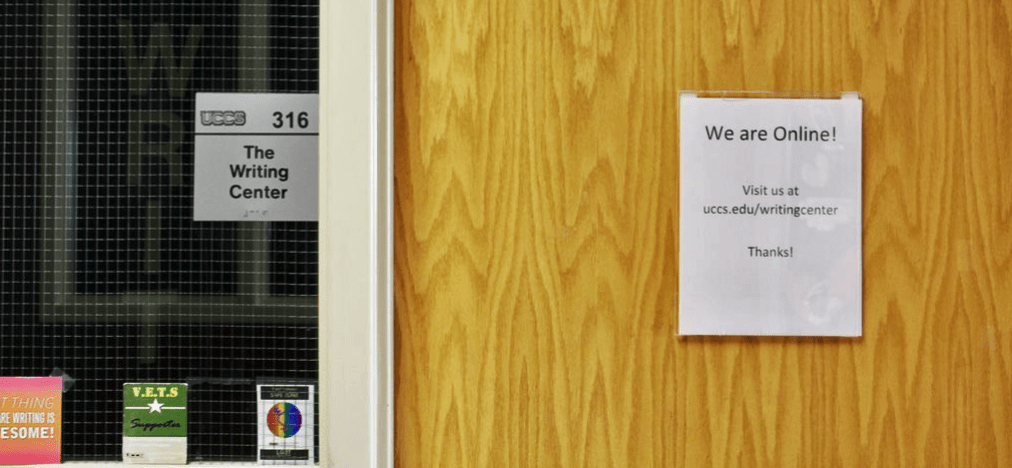 "What is really different [this year] is that we were used by students as a study space to work, grab coffee, or recharge between classes," Balk said. "It has certainly been a challenge. We miss the students, but we also know that this is the safest option for them and for our staff."
According to Balk, one-on-one consultations are still being offered to students virtually and the Excel Writing Center is still hosting some virtual creative writing workshops to build community for students. The Writing Center is also still able to visit classes on Microsoft Teams for peer reviews and workshops.
"Our services are available for all UCCS students, regardless of major or academic background," Balk said. Virtual appointments can be scheduled here.
Excel Math Center Director Jenny Dorrington could not be reached for comment but wrote on their website: "The Math Center is dedicated to providing all UCCS students with a place to talk to others about math and math-related disciplines, and to work with a tutor to improve your understanding of and comfort with your math courses. Even though most classes are online, you can still count on the Math Center to work with you on your classes."
In-person and remote services for the Math Center can be accessed here.