4.2 out of 5 stars
"I'm Thinking of Ending Things" is an existential crisis pretending to be a movie, which makes it perfect for 2020.
The movie touched me, and it consumed my mind for the next couple of days after watching it. Written and directed by Charlie Kaufman, the film is based on the book with the same title, written by Iain Reid.
Just like in Kaufman's other films, he writes as if he knows you. Little do you know; he also writes to everyone and attempts to take on the universal fears that we all face.
This was a perfect book for Kaufman to translate into film because he is known for visualizing vulnerability and absurdity in an honest, surreal way, while handling tough concepts that dive into what it means to be human.
"I'm Thinking of Ending Things" takes it a step further as it attempts to deconstruct humans and our ideas of truth. One line early into the film serves as an example: "Other animals live in the present. Humans cannot. So, they invented hope."
Known mostly for his writing, Kaufman's surreal style has impacted audiences since he wrote the screenplay for his break-out film "Being John Malkovich" and continued with films like "Eternal Sunshine of the Spotless Mind."
And just like these other films by Kaufman, "I'm Thinking of Ending Things" does not provide you with answers but instead leaves things up to personal interpretation. According to several sources, the book that it's based on provides you with answers, but Kaufman is not one for them.
I bought the book immediately after watching the movie to compare notes on both artists' visions.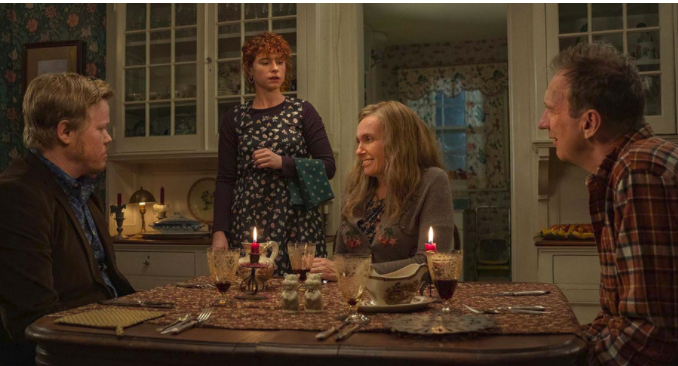 The plot is simple and is easy to follow on the surface. Lucy (Jessie Buckley) is on a road trip with her boyfriend Jake (Jesse Plemons), where she repeatedly thinks about ending things with her boyfriend. It takes place during a heavy blizzard where the couple is off to meet Jake's parents at their farmhouse in the middle of nowhere.
For some people, meeting your significant partner's parents already causes anxiety, but now add an existential crisis to the mix. No wonder she is "Thinking of Ending Things."
The couple explain to Jake's parents, during a disturbingly awkward dinner scene, the origins of how they met six weeks ago — or has it been years?
"It feels like forever," Lucy says during dinner. They met at a bar during trivia night, and Jake was extremely awkward about it all, but she still liked him.
Throughout the night the story changes, along with Lucy's name and her college major and her age. It feels like a dream where everything does not make sense, but since you are in a dream, you accept it.
All of this works because the writing, direction and acting play perfectly into everything we see. Everyone goes all in for us.
"I'm Thinking of Ending Things" is the perfect allegory for this year — everyday life may seem dull as we stay home and social distance, but beneath the surface, something is wrong, and it's rising above it. The world around us is changing as we try to understand what is real.
I'm thinking of ending this review, but before I do, I want to point out that this is not an easy movie to watch because it forces us to think and question everything that is around us. If you want to escape reality and relax, I recommend watching something else.
"I'm Thinking of Ending Things" is on Netflix, so you can watch it in the comfort of your home.