Imagine the following: ten crewmates trapped onboard a rapidly malfunctioning spaceship with at least one murderous member hoping to pick them off one by one.
Despite the rather dark premise, the multiplayer indie game "Among Us," developed by a three-person team at InnerSloth, has managed to become one of the most popular games globally, competing with the likes of long-reigning games such as "Fortnite," "Minecraft" and "League of Legends."
Personally, I have logged over 48 hours in the game while still going to school part-time and holding two jobs. For some, that may seem like quite a bit of time, equivalent to two full days; to others, it may look like a rookie number, since many other players have logged over 100 hours.
When you join a lobby with either strangers or your friends, you will be assigned as either a crewmate or an imposter. Depending on the player count, there will be one or two "impostors" who must pretend to be crewmates while secretly trying to kill the crew. To win, crewmates must complete all assigned tasks without being killed or vote the correct impostor(s) out of the ship. Impostors fake tasks to avoid suspicion and must kill other players to win.
Plenty of my friends are suspiciously brilliant at lying, and many fun shouting matches over who is "sus" have occurred on Discord well past 1 a.m. Unfortunately for me, I tend to sweat and become audibly nervous as an impostor, and I hardly ever win unless I am just a crewmate.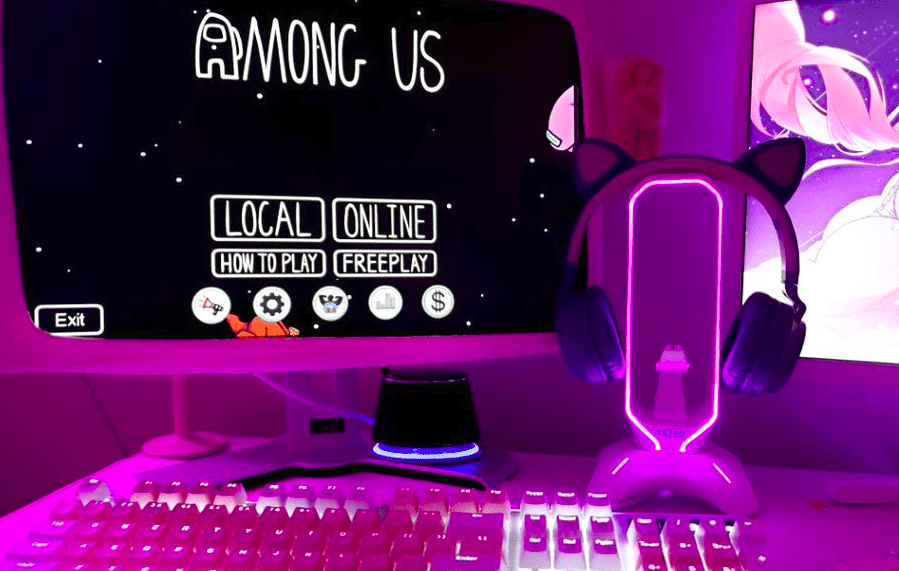 While this multiplayer game initially launched in 2018, it has only gained a massive following in September 2020, after Twitch streamers and YouTubers such as Pewdiepie, Jacksepticeye, Valkyrae and others promoted it in their videos. Celebrities and political figures like James Charles, Charli d'Amelio and Rep. Alexandria Ocasio-Cortez, people who do not normally stream video games, picked up on the trend and found themselves gearing up in "Among Us" lobbies for some blame-shifting fun.
In addition, the game has granted smaller content creators astounding success after viewers flocked to support internet personalities they enjoyed watching. One such creator, Corpse Husband, has found both his YouTube and music career skyrocketing as he has garnered millions of followers in the past two months due to his deep voice and unique style of play.
According to Steam Charts, "Among Us" has become the number one peak player club game on Steam, a cloud-based gaming library with over 90 million monthly active users.
In September, it was the most streamed game on Twitch, and the game developers even decided to cancel their work on a sequel, choosing to instead focus on updating the original due to its newfound popularity.
This begs the question: how did "Among Us" become so wildly popular this year, if it was released in 2018?
Jakob Sharp, third-year video game design and development major and event coordinator for the eSports club at UCCS, says that while he does believe the COVID-19 outbreak and increase in self-isolation increased the demand for online play, there was much more to factor in.
"'Among Us' mostly got its boost from streamers," Sharp said. "The imposters are encouraged to confuse the crewmates, and communication is so limited that slip-ups occur. It [makes] for an entertaining game to watch, which in turn encourages viewers to purchase the game. With all the maps coming with the $5 purchase … [it] also gives players a good value for their money."
The game is not expensive and has a small learning curve, which makes it easier for people who are not as used to gaming regularly.
I have several friends and family members who would not play "Spellbreak" or "Terraria" but would happily boot up their laptop or mobile device to play a couple rounds of this quirky two-dimensional game.
According to The National's Evelyn Lau, each round typically takes a mere 10 to 15 minutes, while a match for a game like "Valorant" can take 30 to 40 minutes. These high energy and fast paced games that are also quite noncommittal seem perfect for Generation Z, and IndieSloth has done a brilliant job in pinpointing and capitalizing on that.
For those who use Apple or Google Play, "Among Us" is free to play on mobile with ads. It costs $5 on Steam or on InnerSloth's website and is currently only available for Windows on PC. If you have not played "Among Us" yet, what are you waiting for? Give it a try!