The labor shortage in the U.S. has affected businesses all over the country but has struck the hospitality industry especially hard. This shortage has forced the UCCS dining services to consolidate their resources to continue to provide service to students.
     Alfonso Quinones, director of Dining and Hospitality Services at UCCS, said the dining halls have not had any issues keeping employees and have hired back all the employees laid off last year due to the COVID-19 pandemic. The problem they are facing is finding qualified applicants that meet the minimum requirements to cook for UCCS.
     According to Quinones, the employee recruiting process is limited to word of mouth.
"This school doesn't have a recruiting process. They don't because this is an academic institution, it's not a [for profit] business," he said. "We don't make money out of dining. It's not supposed to make money. This is part of a student's affairs, and it's a service to improve the residence life of the student."
     Heath Wagner, general manager of the dining halls, said the lack of student employees is one cause of the shift. "In a typical year, we're at like 225 [student employees]. And right now, we're not even at 50% of that," he said.
     The labor shortage is a multi-faceted issue that cannot be blamed on one single event. According to Quinones, the hospitality industry has historically seen shortages in staff, but the COVID-19 pandemic hit them especially hard when restaurants closed or saw little business due to lockdowns.
     Quinones said he hopes to have the Lodge open for hot breakfast and lunch by November. However, that is contingent on hiring more employees.
     Before consolidating the dining halls, the employees struggled to keep up with the workload of feeding UCCS students. According to Wagner, they service upwards of 1,400 students on their busy days and about 900 students on slower days.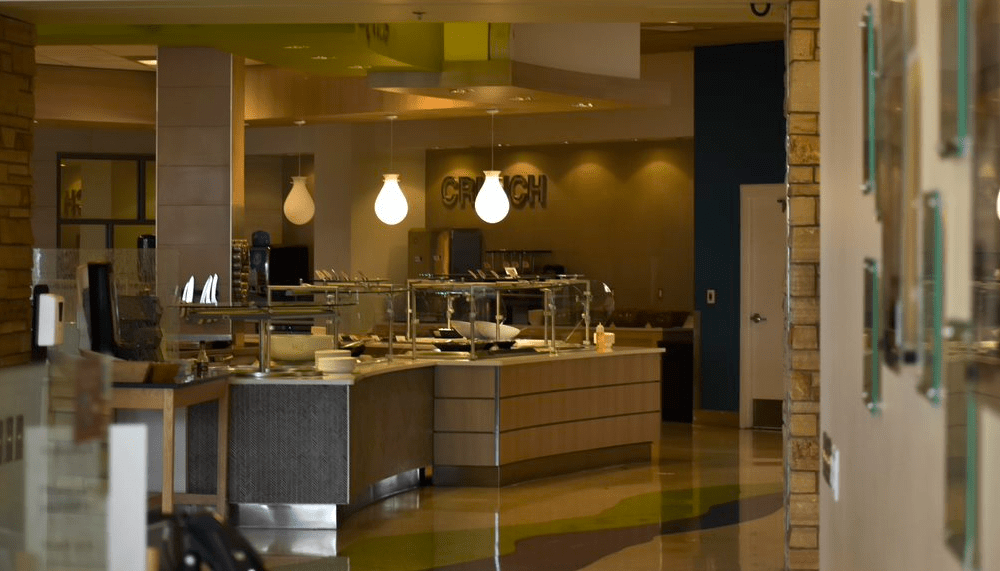 "Most of our cooks that were here were working 50-60 hours a week to try to get food to all the students. Some of them mentally were crashing and having a hard time. So, we decided that we need to close it for the sake of other people that are here," Quinones said.
     "Some of them [worked] six days a week for 50 hours. Imagine your 24 hours, and you're here 12 hours. You go home, and you'll be with your kid two hours, then you go to bed, start all over. That's all you do. And then when it's Sunday, you just have to lay down and try to make it to the next day," he said.
     Both Quinones and Wagner praised UCCS students for the grace they have given dining hall staff during this challenging time.
     "We love the cooperation, and I like that people are supporting [us], and I hope that we still get the same support, and they hang in there and don't get desperate. We are working on it. We're making a big effort. But you know, the students have been great," Quinones said.
     Dining and Hospitality Services is currently looking for student workers and getting a job with them is almost as simple as applying. "Basically, if people have a school schedule that fits our needs of the business, they get hired. And right now, our main focus is getting residential dining fully staffed," Wagner said.
     He continued, "So then at that point, once Roaring Fork is fully staffed, we can open some more services at the Lodge. Once the Lodge is fully staffed, we can think about opening some more retail outlets."
     Working for the dining facility has its benefits. Students begin accruing sick time during the first month they work. They can also get free food on the days they work. "They get free lunch, and free meals, every time, it's basically all you can eat," Quinones said.
     Night shifts are available from 6-11 p.m. for students that prefer to work later in the day. A variety of jobs are available, including dishwashing, catering and working at the front desk. The front desk job has the added benefit of being more relaxed, allowing students to read or do homework while working.
     Students who would like to work for the dining hall can find all openings on the Student Employment Assistance Network. In addition, there are openings for dishwasher, general residential staff, general catering staff and coffee student supervisor positions.
     The Lodge is now open for grab-and-go service only and is open Monday-Friday, 7:30 a.m.-2:30 p.m. The Roaring Fork dining hall has expanded its hours to accommodate this shift and is open Monday-Friday 7 a.m.-8 p.m. and Saturday-Sunday from 10 a.m.-8 p.m.