COVID-19 at UCCS
The UCCS COVID-19-Ready dashboard has been upgraded to include more information on campus case numbers and isolation room occupancy — and overall, upward trends are apparent.
A total of 199 people in the UCCS community have tested positive for the novel coronavirus as of Nov. 21, and 144 of these cases (over 70 percent) have been reported this month.
In August, five cases were reported, September had 23 cases and October recorded 27 cases; November has 144 cases so far.
During the week of Nov. 16, 35 new cases were reported at UCCS — a notable decrease from the 64 cases reported during the week of Nov. 9.
Daily case rates have also been made available on the updated COVID-19 webpage. The highest daily incidence rate was on Nov. 13 when 19 new cases were reported.
Before the beginning of November, no more than five cases were reported daily, with an average of less than one case per day. During November, the average rate has been over 7.5 new cases per day.
A total of 92 students have utilized the UCCS isolation rooms this semester, and 60 of them (over 65 percent) used the rooms during November. As of Nov. 18, there are 8 students in the isolation rooms, while the largest number of occupied isolation rooms at one time was on Nov. 16, when 13 rooms were in use. These numbers do not include students and other members of the UCCS community who are isolating or in quarantine at home or elsewhere off campus.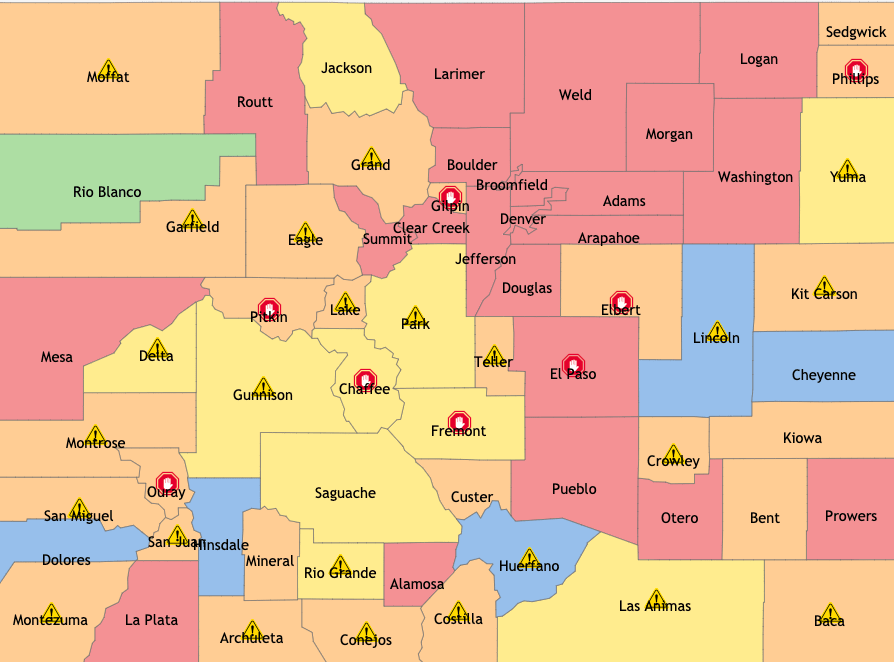 COVID-19 in El Paso County and Colorado
The state of Colorado has added a new level to the COVID-19 dial framework. There are now six levels, the newest and highest level being Purple: Extreme Risk. Below Purple is Red: Severe Risk, Orange: High Risk, Yellow: Concern, Blue: Caution and Green: Protect Your Neighbors. Only one of Colorado's 64 counties is in the Green category.
Twenty-one counties in Colorado, including Denver, Boulder and Pueblo, are in the Red: Severe Risk category. El Paso County is currently in the Orange: High Risk category but will move into Red: Severe Risk on Friday, Nov. 27.
On Nov. 19, 796 new cases in El Paso County and six COVID-19 related deaths were reported. A total of 21,414 cases have been reported in the county since the beginning of the pandemic, and 243 people have died from the coronavirus disease.
On Nov. 19, 6,036 new cases were reported in the state of Colorado. The highest daily incidence rate was six days prior, on Nov. 13, when 6,499 cases were reported. Over 186,000 people have been infected with the novel coronavirus statewide, and 2,734 people have died as a result.