October 31, 2017
Isaiah Cordova
    The program formerly known as the OZZI container system in place at Café 65 and Clyde's is now the Green2Go take-out container program.
    Green2Go containers are plastic take-out containers that can be cleaned and reused at either Café 65 or at Clyde's. When ordering from either of these places, customers can ask to have their meal placed in a Green2Go container rather than the usual disposable take-out container.
    An effort of the Zero Waste program at the Office of Sustainability, the Green2Go program provides students with another way to reduce waste and to more effectively conserve resources. The price has also been decreased from $4.50 to $2 a box, according to Linda Kogan, director of the Office of Sustainability
    "The price has been changed to $2 to get as many people to participate in the program as possible," Kogan said in an email.
    "The great thing is that every meal that goes in the Green2Go container is discounted 50 cents."
    Kogan said that the program will help students and staff lessen their impact on the environment.
    "The goal is to have every student, faculty or staff [member] who takes their food from Café 65 or Clyde's to use a Green2Go container rather than a disposable container," she said.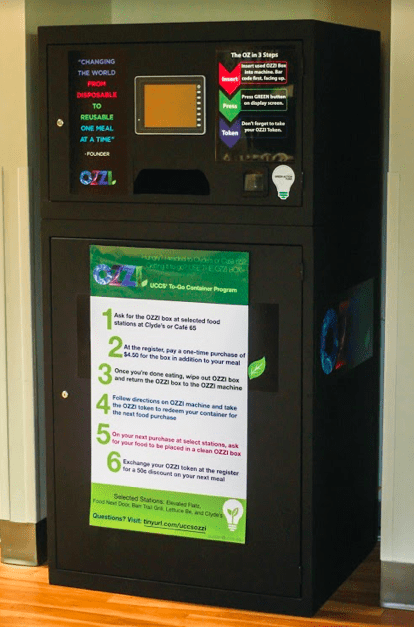 "Each Green2Go container can be washed and reused 300 times. This is why we have a demonstration in Café 65 right now with a building of 300 disposable containers next to one Green2Go container."
    After four meals, Kogan said that students make back their investment into the program.
    In order to get involved in the program, students must ask for their ordered food to be placed in a Green2Go container rather than the standard disposable clamshell container. Upon checkout, students will pay the one-time $2 for the container.
    Once a student is done eating, they return the boxes to the OZZI machine in Café 65, and then receive the token that redeems further meals in the Green2Go container, with the 50-cent discount.
    While the Green2Go container display is up, customers at Café 65 have a chance at winning a free Green2Go container.
     "Get your food from Café 65 or Clyde's in a Green2Go box. At the register, pay $2 for your first box. After you eat, return the box to the OZZI machine in Café 65 and receive a token in exchange for your next meal. When you get your next meal, go to the register and repeat," said Kogan.
    For more information on the program, go to uccs.edu/diningservices/sustainability/ozzi-take-out-container-system.html.