April 3, 2018
Rachel Librach
    Theatreworks is brining a character that some students might be able to relate to.
   Theatreworks presents "Peer Gynt," the first student production to be performed in the new Dusty Loo Bon Vivant Theater. "Peer Gynt" premieres at 7:30 p.m. on April 5. The show, which is free to students, will run until April 15.
    Directed by Kevin Landis, director of the Theatre and Dance Program, the play explores themes of self-discovery and personal identity. Music, ballet and puppetry, all performed by VAPA students, will be included as well.
     The play centers around a young man named Peer Gynt who searches for meaning in his life, along with his purpose. Landis believes that "Peer Gynt" is relatable for many students since they can witness Peer's struggle of self-discovery.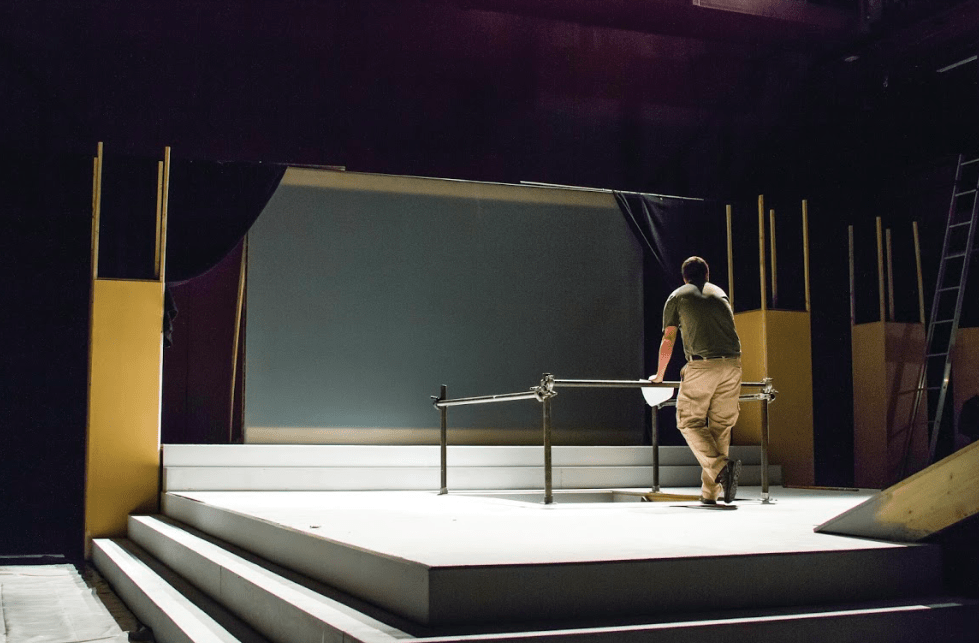 "'Peer Gynt' is really good for students to tackle because students are thinking a lot about who they are, their impact on the world and who they want to be. Peer goes through this journey to figure that out and the audience can figure out if he made the right choices," said Landis.
     In the fall, 13 actors were casted in the show. Nine musicians and 10 technical design students have also contributed to the production. According to Landis, at least 50 students have impacted the play.
    Senior theater major Jessi Hampton serves as the assistant stage manager for "Peer Gynt." Students have worked to incorporate detail into the set design and other elements, said Hampton.
    "It's going to be really integrated, and I think it's a really good show regardless (of how familiar you are with the piece) because people will be able to pick their own characters and follow them throughout the story," she said.
      The play has been condensed down from the original five-hour script to about an hour and a half, according to Landis, who believes that the play will allow the audience to relate to the characters.
    "We are trying to let the audience dream into the work, allowing them to pleasantly assess their own lives and how they have lived it and how they have interacted with people over the years," he said.
    "I want the audience to be thoroughly entertained by the magic of theater. There are so many beautiful techniques of awe, and I hope the audience will leave pleased with the theatrics of the piece and spend a few days afterward thinking about how it applies to their lives."
     Sophomore theater major Johnny Bartlett, stage manager for "Peer Gynt," agrees that the play is relevant to the current day and age.
    "It captures a lot of issues that especially people our age struggle with right now with existentialism; where do I fit in, what do I do," Bartlett said.
    Salvador Placensia, a sophomore theater major, plays the middle-aged Peer Gynt. At this point in Gynt's life, he lives a bourgeoisie lifestyle, which gives the audience the perspective of how someone can't live to their potential due to cheating and lying.
     Placensia hopes that the audience be able to experience something completely different from traditional theater.
    "I want the audience to kind of be immersed in this really non-naturalistic environment. A lot of times, people go into plays and they think, 'I just want to see something real or something that could actually happen'. But I want them to see something that's from a crazy dream world," he said.
     Placensia explained that his greatest challenge was learning a new style of acting and disregarding his past teachings. Placensia practiced with realist playwriters and had to change his mindset.
    "Kevin was like no, 'throw all that out the window. I want this weird, dreamy character.' I felt so ready to act, and then it was like, do the opposite of what you have been practicing," said Placensia.
     Although the play fits a lot of action and performance into the one hour and 30-minute time period, Bartlett explains that the play is well-balanced.
    "A lot of the storytelling is done through movement and dance pieces. So, some of the lengthier sections are condensed through just really stylized dance numbers that capture the themes and the messages of that section without having to go through 40 pages of text," he said.
    For more information on "Peer Gynt," visit theatreworkscs.org.