19 February 2019
Brian Blevins
    For any student interested in participating in this spring's intramural sports, team and individual registrations open Feb. 20. Registration will be open until March 13, after which a four-week season will begin. Students can register for four major sports: flag football, volleyball, ultimate frisbee and kickball.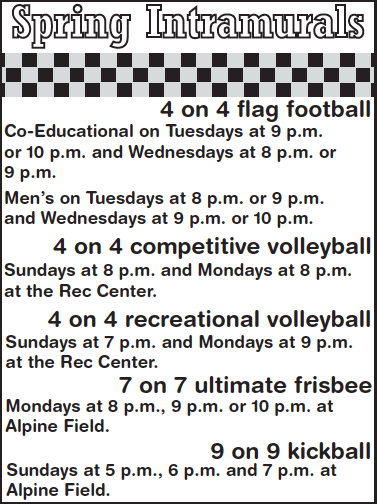 Skyler Cook, Program Director of Competitive Sports at the UCCS Recreation and Wellness Center,  said via email that the benefit of intramural sports is the building of a community.
    According to Cook, leagues are divided into competitive, recreational and co recreational divisions.
    "Whether you are trying the sport for the first time or you used to play competitively in high school, we can offer that level of competition you are seeking," said Cook.
    According to Cook, students can register " as an individual for an individual sport or they can register as a captain for a team sport and add their friends to the roster once the team is created."
    Then there is the free agent registration, where students can register individually and wait to be picked up by a team that needs more participants to fill its roster.
    "This is a great way to get involved and make friends with other people who are looking to make friends," Cook said.
    Free agents are not guaranteed to be picked up by a team. If they are not picked up, free agents are encouraged to go to the Recreation and Wellness Center on the first night of competition.
    "If a league hasn't already filled up and we have enough free agents registered, we will create a team made up entirely of free agents," Cook said. If only a handful of free agents are available, the Recreation Center staff will work with established teams to find a spot.
    Cook said that "most of our teams are happy and willing to take on a sub [to] join their team."
    The purpose of intramurals at the Recreation and Wellness Center, according to Cook, goes a bit deeper than simple fun and games.
    Objectives of the program include "to engage the university community in diverse sport and program opportunities," and getting students involved in leadership and physical activity "in a safe and competitive environment."
    The Recreation and Wellness Center will also continue hosting tournaments and events on a weekly basis at locations on and around campus.
    Feb. 28 is a night of team bowling, held at King Pin Lanes. Events in March include a March Madness bracket challenge hosted by ESPN, and a spelling bee in Clyde's on March 7. Aside from the bracket challenge, general cost for participation is $7 for students. Students can purchase the $15 sport pass through the Recreation and Wellness Center, which grants unlimited access to all Recreation Center sport offerings.
    For questions regarding intramurals and registration, students are encouraged to contact [email protected]. Also, registration info is available via the Gallogly Recreation and Wellness Center website at campusrec.uccs.edu/fusionim.