February 27, 2018
Tamera Twitty
Isaiah Cordova
    Students gathered in the Student Life and Leadership Office to hear the 2018 SGA candidates answer questions about their platform from students and moderators on Feb. 26.
    This semester, there are a total of 21 candidates running for a position in SGA. This includes three president and vice president tickets, one candidates for director of finance, nine candidates for senator and five candidates for senator-at-large.
President and Vice President
    Considering the tickets' varying goals for the upcoming year, the conversation revolved around two main issues: student retention and this year's allocation of funds from the Student Activity Fee.
    According to Chancellor Venkat Reddy, the retention rate for freshmen is 65 percent. Augusto Tomszay, who is running for president, and Philip Oke-Thomas, vice presidential candidate, discussed how student involvement will increase retention.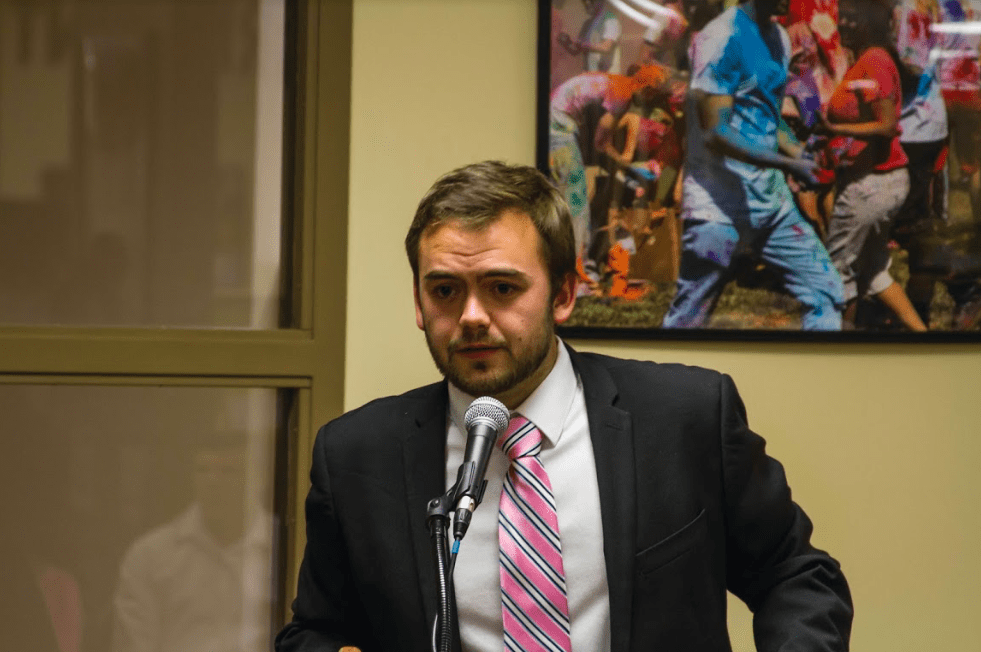 "Making UCCS a family is something me and Augusto take pride in. If we can achieve this, the retention rate will reflect it," said Oke-Thomas.
  Ashley StClair and Devon Johnson's ticket made the argument that a main issue in low retention is mental health.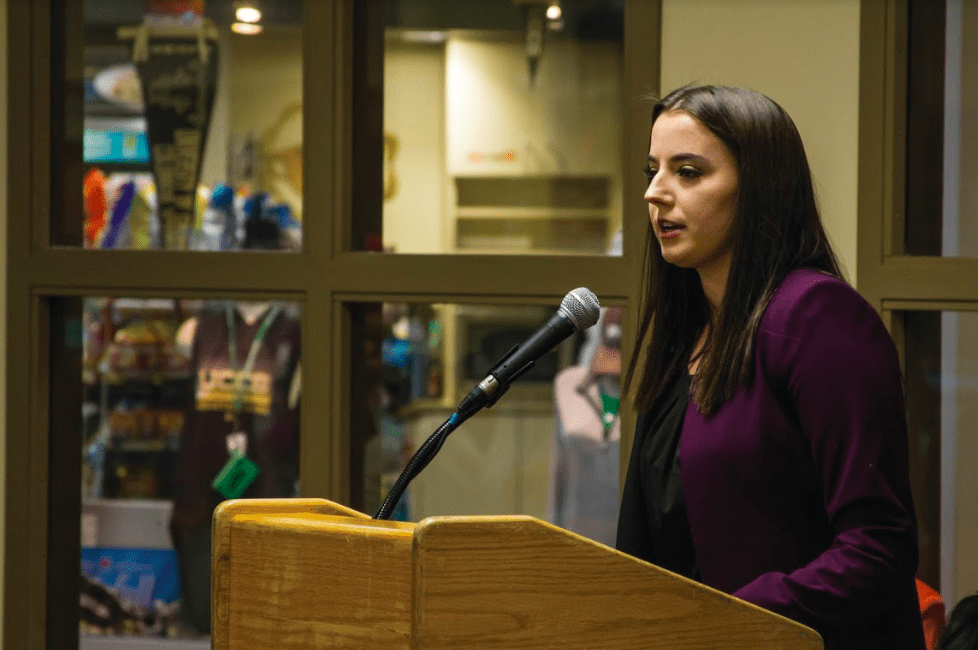 "Kids come here and are given more freedom then they have ever had before but are struggling with anxiety and depression and are not told how things like drinking and drugs will affect their mental health," said StClair, presidential candidate.
     Tomszay Oke-Thomas also relayed their message of inclusiveness and activism among students.
     "If we can work as a cohesive unit in order to understand what we all want, then we can do powerful things," said Tomszay.
    According to the pair, leadership on a college campus should work as the voice of a diverse pool of students.
     "I urge you to look for a leader who wants to bring people together, not condemn, not diminish," said Tomszay.
      StClair and Johnson discussed their ticket's aims to reallocate funding from the Student Activity Fee that has gone toward a recognition fund for members of the Executive Council.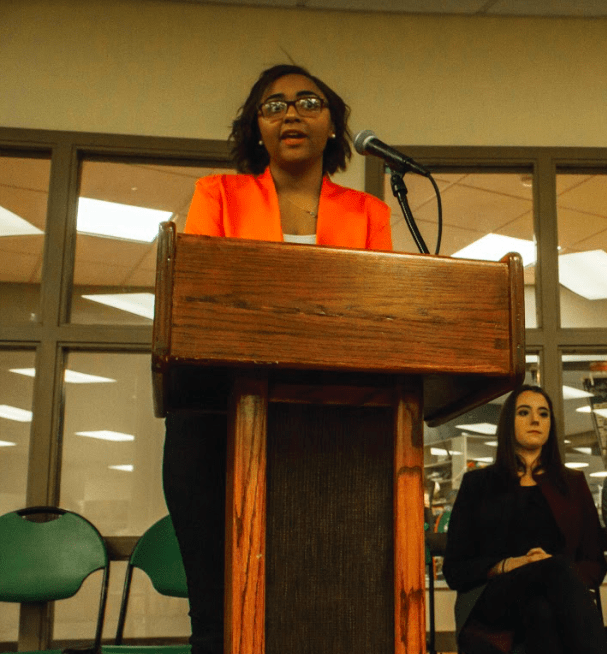 "We want all students to have their voice back, and bring them back to student government. We are running solely on making that change," said Stclair.
    "We need to seriously look at the spending that was happening this year and how it affects clubs' ability to conduct activities," said Johnson. "Ashley and I have made a promise that we are not going to pay ourselves because that is not what the student activity fund is for."
    Tomszay and Oke-Thomas will focus on the essential need of the Student Activity Fee for SGA.
    "The student activity fee is essential for SGA. Its how it provides funds for all clubs. But we can't focus on the bad things SGA has done, but the change that will come," said Tomszay.
     "Our senate made the decision and they had every chance to vote it down. The process was secure. I want to point out, it's not appropriate for leaders to have to choose between being in SGA and being able to pay their bills," said Brown, who served as chief justice prior to running for president.
Director of Finance
    Raven Chavez-Maltby, the uncontested candidate for director of finance, showed passion for the perceived misuse of the student activity fund.
    "If you have the good intentions to govern you won't be doing it for pay," he said.
    He also disclosed what he deemed as inappropriate spending on SB.23, a bill passed in order to use $1,900 to pay for jackets for SGA members.
    "As I don't believe in taking payment, I would much rather see the funds go toward inclusivity on campus."
Referenda
    Following an intermission where attendees got free pizza, representatives discussed the referenda up for vote this year.
    The Safety and Transportation Fee Referendum was represented by Kimberly Reeves, the sustainability program manager for the Office of Sustainability. The referendum aims to redefine what "transportation" means in the Safety and Transportation Fee.
    The updating of the fee language would help put other forms of on-campus transport under the umbrella that this fee provides.
    "A couple different ways (the fee) could support is making sure on-campus transit is fast and accessible again to all students," said Reeves.
    Following Reeves, Beckie Munoz, a business major and business manager of The Scribe, represented the Media Fee Referendum, which is a joint venture between UCCS Radio and The Scribe. The organizations are seeking an independent fee to address concerns with rising minimum wage as both organizations pay their employees.
    "With the rising costs of minimum wage and the need for expansion, we feel it necessary to obtain a student fee to cover these rising costs," said Munoz. "This year, (SGA) ran out of funds in January, so hopefully with an extra $120,000, that would actually be able to sustain them for the rest of the fiscal year."
(Editor's Note: The Media Fee Referendum was written and proposed in part by Hannah Harvey, Editor-in-Chief, and Beckie Munoz, business manager, of The Scribe, alongside Madison Ellis, station manager of UCCS Radio. The Scribe and UCCS Radio are actively campaigning for the media fee.)
    Following Munoz, Mary-Claire Rizzardi, a senior political science major and the public relations chair for the Green Action Fund, came to the podium to represent the Green Action Fund renewal referendum.
    The referendum will renew the GAF to avoid its five-year sunset clause, so that the GAF can continue its operations for the next five years.
    "If funded, the fee will continue to fund student-oriented sustainability projects at UCCS," said Rizzardi.  "Without the support of the student body, UCCS wouldn't be in the position of ecological friendliness that we as a community are today," said Rizzardi.
    The GAF also focuses on academic research, with the funding of research behind a renewable battery system, the Hyperloop project, and other student groups, faculty and clubs that meet the committee's requirements for funding.
Senators and Senators-at-Large
    The Senatorial debate started with the Senator of Innovation position.
    Tori Crowley, former senator of engineering, explained that she wants to be able to support students and clubs in a better way.
    "I was trying to decide between Innovation and Sustainability, and I realized that Innovation is kind of the connection between everyone, and ideas that people haven't yet realized that are there, and I want to be that connection," said Crowley.
    The current incumbent, Lauren Butler, explained that she is working towards finding ways to unite the campus and to create an awareness for the Innovation program.
    The candidates for the Senator of Multicultural Affairs were Adeoluwa Remi-Afonja and Katelyn Sethi. Remi-Afonja advocates for extending diversity to official campus events and helping students express the school's diversity.
    Sethi's platform focuses on advocacy for disabled people, making feminine hygiene products more readily available, and to help students and clubs find a common ground and make "the community one."
    Lisa Hinton, uncontested candidate for the senator of letters, arts and sciences, wants to focus on military-affiliated and veteran students due to her military affiliation.
    Lance Peltier, uncontested candidate for the senator of business, will also focus on unity, bringing together all emphases in the College of Business.
    Nicolas Nava, uncontested candidate for the senator of engineeringsays that his involvement in engineering organizations on campus has helped him learn how to navigate SGA to get the resources necessary to help engineering students.
    Justin Jones, a candidate for Senator at Large, stated that he wanted to be a non-biased and objective representative for students, with a focus on military-affiliated students.
    Breana Arnold, another candidate for the position, stated that she advocates for an inclusivity pledge on campus, that she denied the recognition money from SGA, and that she would represent both residents and commuter students.
    Grant Nelson said that he aims to be a "gateway" from students to SGA, and in the position of Senator at Large, he would be able to best represent and get behind ideas that students have.