Due to inflation and conflict in Europe, crude gas prices have risen to over $100 a barrel. As a result, gas prices around the world have been skyrocketing.
In Colorado Springs, gas prices are easily $3.75 or higher, with some gas stations even approaching $5. Compared to one year ago, that is almost a $2 increase per gallon.
In a recent and sweeping change, the university hopes to avoid some costs by leaving shuttles in the dust and resorting back to an old, reliable solution: horse and buggy. The new program is called UCCSteed, and it hopes to decrease transportation prices while also providing a better riding experience for students.
     Beginning April 1, shuttles will be retired indefinitely and left to rot in the shuttle lot, while horses will begin pulling carriages along Clyde's Way and Regent Circle. Shuttle drivers have already been trained to use a whip.  
In a campus address, Parking and Transportation Services explained the benefits of using horse and buggy for the foreseeable future.
"Horse and buggy is clearly superior to those old shuttles. The innovative design of the carriages allows students to face each other and converse during their trip. Furthermore, it is better for the environment. So far, the only issue we foresee is the waste produced by the horses, but we are working with the Sustainability Department to create a fertilizer system for the lawns," Parking and Transportation Services said.
The total cost of the transition thus far is unknown, but it is believed that the cost of medical care and food for the horses will be vastly cheaper than gas for the shuttles. However, the cost may become an issue with the construction of new, deluxe stables for the horses, with costs estimated to be up to $120 million.
     "The horses are gonna love it here. The steep gradients, heavy cargo loads and unpredictable weather are all aspects that are ideal for horses, in fact," Parking and Transportation Services said.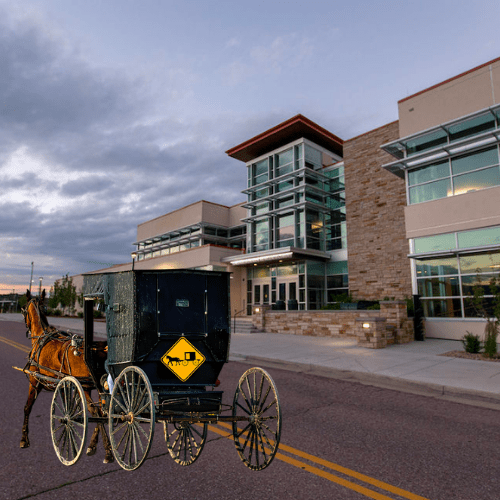 As part of the new UCCSteed program, the university is also encouraging commuter students to take more environmentally-friendly modes of transport to campus.
"Perhaps students can even ride their own mules to school. We are in contact with the Colorado Springs Transportation Department and CDOT and discussing the possibility of 'horse-lanes' on all major roads. In conjunction with this possibility, we are offering discounted parking passes made especially for beasts of burden on campus," Parking and Transportation Services said.
UCCS is also taking this opportunity to give some students a chance to gain experience in dealing with animals. The pre-veterinary medicine major, for example, is adding courses that allow students to care for the horses while in their stables.
Over the break, several students could preview the new carriages before UCCS formally launched the program.
Wando Baylee is an accounting major and sophomore at UCCS. He commutes to campus, and he gave an opinion on the matter after riding the carriage from Centennial Hall to the Alpine shuttle stop.
"The ride was quite bumpy, but it wasn't too bad. I only waited a couple minutes before I heard those horse feet clomping towards me. The driver of the buggy was dressed in a nice suit and a top hat. The seats were comfortable, and I am fairly sure the ride was faster than the shuttles," Baylee said.
Hummus Taylor is an engineering major and junior at UCCS. She commutes to campus, and she also gave her recollection of her experience after taking a ride on the carriage.
"I hate horses. I just really hate horses. They smell bad and make a lot of noise. I just really hate horses," Taylor said.
Several former shuttle drivers were seen walking around campus in tuxedos and top hats speaking Old English. It is unclear whether this is a mandatory practice or whether they simply wanted to act this way.
In a final statement by the Parking and Transportation Services, they said they hope to expand the program beyond replacing the shuttles.
"The second half of the UCCSteed program is far more ambitious. We are hoping to replace all roads on campus with cobblestone streets so that the snow melts faster," Parking and Transportation Services said.
In other news, possibly related to the UCCSteed program, all phones on campus are being replaced with morse code machines.