Rep. Marjorie Taylor Greene of Georgia's 14th Congressional District was removed from her committee assignments on Feb. 4. The decision was made by the House of Representatives, with the final vote being 230-199. Eleven Republicans joined Democrats to back the resolution.
The decision came after Rep. Debbie Wasserman Schultz, D-Fla., put forward a resolution to remove Greene from her assignments on the Budget panel and the Education and Labor Committee.
Greene had come under fire in the weeks leading up to Feb. 4 for her history of racist, anti-Semitic and violent remarks against Democratic officials prior to taking office.
Greene gave testimony on the House floor, stating that her past comments "do not represent [her]."
The defense given by Greene had the Georgia freshman stating that she was a "very regular American" who had "stumbled across" the far-right QAnon conspiracy theory at the end of 2017. She then stated that she stopped believing in it a year later, when she began to find misinformation.
QAnon, also called Q, is a disproven and discredited far-right conspiracy theory alleging a secret cabal of Satan-worshipping, cannibalistic pedophiles running a global child sex-trafficking ring and plotting against former President Donald Trump during his time in office.
Greene has continued to express concerns about a "deep state," echoing a possible QAnon conspiracy theory.
"I was allowed to believe things that weren't true," she said on the House floor. "I would ask questions about them and talk about them and that is absolutely what I regret."
Ramon "Ray" Reyes, a graduate student in the master's in public administration program at UCCS, questioned Greene's involvement and whether this should be the focus of current politics.
Reyes' involvement with the UCCS College Republicans since early 2020 has given him insight into politics surrounding UCCS, the state of Colorado and the rest of the nation.
When asked about Greene's involvement with QAnon, Reyes pointed out the relevancy of the question, and how language is handled on a political level.
"Her removal pertains to the impacts she can have. If she is unable to curb personal unsubstantiated beliefs at the door, then that is something she must work on, or deal with the consequences."
Reyes continued, "However, this also pertains to many on the left. The problem I see is the hypocrisy in language that is being handled."
Reyes expressed concern over the nation's conversations regarding politics and the livelihoods of citizens. "If we are going to get voices from across the spectrum, we need to start addressing actual issues. We need to ask why we stand where we stand on issues.
"Let's start asking each other how we can bridge the divide, what do people on the left and right want, and why? Let's figure out where our common ground is."
On QAnon, Reyes said, "QAnon is an entity of its own, I don't personally believe any of it. I really have no opinion. … I can't speak for Rep. Greene or her constituents."
Irina Amouzou, a UCCS junior studying women's and ethnic studies, is wary of the focus on Greene and her involvement with QAnon.
Amouzou has been involved with UCCS College Democrats since 2018, now standing as the organization's co-president.
Amouzou shared their thoughts. "QAnon is a white supremacist ideological group, and I am a Black person, so I don't look upon them fondly."
Amouzou also stated that they are not surprised at Rep. Marjorie Taylor Greene's involvement, stating that "it is normalized" for "someone with racist and anti-Semitic views" to be elected into office.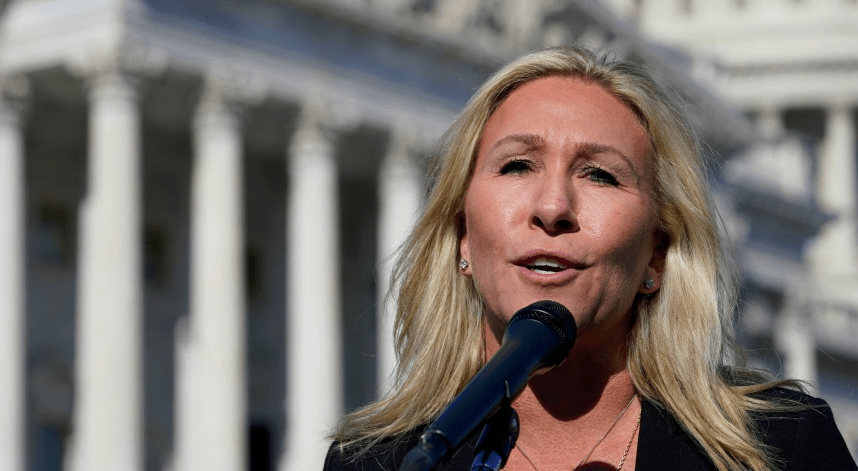 "Rep. Greene isn't special, she is the status quo," Amouzou said.
Amouzou said that Rep. Greene's removal is warranted, and stated, "the lives and experiences of BIPOC are much more important than the feelings and position of a bigot."
Amazou said that their grievance is with the foundation and respect that is given to white supremacy as a function of the U.S. "Once we recognize that, actual systemic change could happen."
Rep. Lauren Boebert from Rifle, Colorado, had shown support for Greene during her hearings and her removal from her respective committees.
"Rep. Boebert has been more focused on her battle with the 2nd amendment at the Capitol and has defended someone she has befriended. That's nothing out of the ordinary of you, or me, or most anyone I know," Amouzou said. "It does not surprise me in the slightest that she supports Rep. Greene."