Colorado Springs has brought a sense of sporting comradery to its downtown and you have to check it out.
Weidner Field is the new home of the Colorado Springs Switchbacks FC team, which competes in the second tier of U.S. men's professional soccer, the United Soccer League Championship.
The $46 million stadium's synesthetic field and "The Epicenter," the stadium's front entrance public art piece, make Weidner Field a standout not only in Colorado Springs, but in the world.
According to Switchbacks president Nick Ragain, Weidner Field is the first approved FIFA Corkonut field on the planet, The Gazette reported.
Unlike a standard synthetic turf field, the field at Weidner Field is made of coconut fiber and cork infill. The makeup of the field creates better foot and ball traction for the players, while also being more environmentally friendly.
"The Epicenter" is the gigantic, reflective ball outside of the stadium — and it looks even more impressive at night. The piece showcases two interlocking rings illuminated by colored LED lights. The piece was designed to reflect the pride of Colorado Springs and the city's special connection to the Olympics.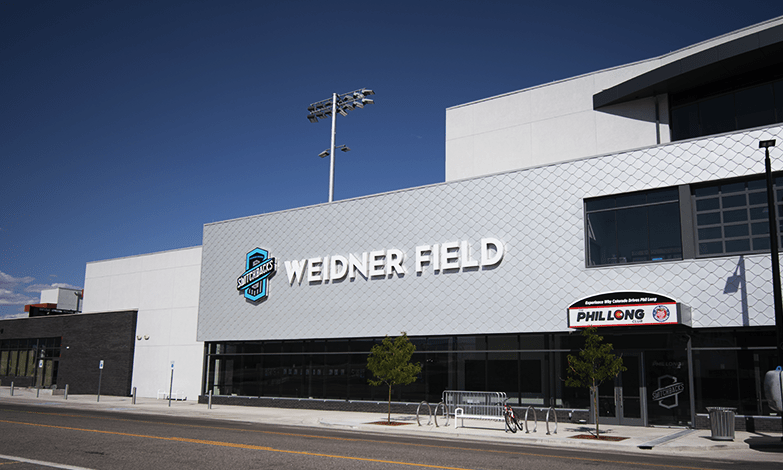 The stadium's gameday concessions were developed by 6035 Hospitality, and they offer a variety of food and beverages (alcoholic and other). If you do go, go with the staples: a hotdog and beer.
Soccer fans can also enjoy themed nights at the field. For example, as a themed promo, the stadium will be giving out $3 margaritas at the Sept. 8 match.
Win or lose, most soccer games in the field are capped by a fireworks display after the sun has set over the Rockies.
Colorado College's new hockey arena (Robson Arena) is also under construction in the downtown area and will soon to add to the developing sports culture.
Weidner Field is located at 111 W. Cimarron St., near the U.S. Olympic and Paralympic Museum.
     The stadium opened on April 23 and can accommodate 8,000 spectators for sporting events and 15,000 for concerts. For more information on Switchbacks tickets and other events, visit https://www.weidnerfield.com/.