COVID-19 at UCCS
The University of Colorado at Colorado Springs (UCCS) broke a record for the number of weekly new COVID-19 cases after 64 positive cases were reported during the week of Nov. 9. This is an average of over 12 new cases per day between Monday and Friday of last week.
This is an increase from the former record number of 45 cases reported during the prior week of Nov. 2. Before the beginning of November, the UCCS case rate was consistently below 10 new cases per week.
A total of 170 people at UCCS have tested positive for the novel coronavirus since the beginning of the semester.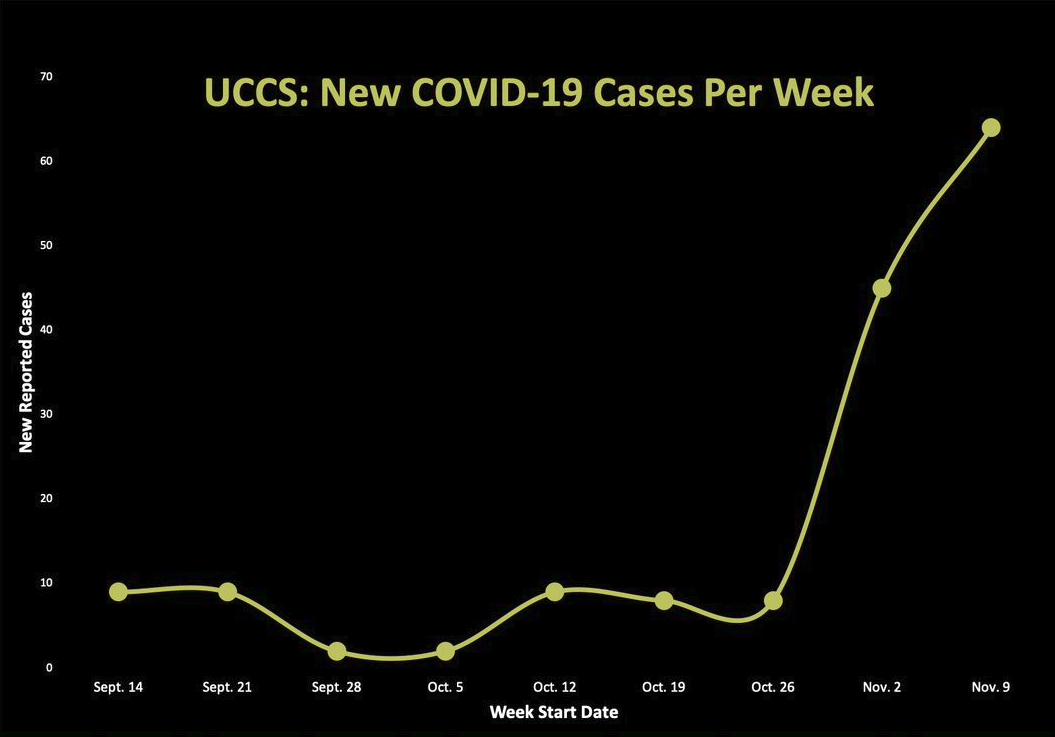 COVID-19 in El Paso County and Colorado
Last week, El Paso County and the state of Colorado both reported the highest daily occurrence of new COVID-19 cases since the beginning of the pandemic in March. Over the last week, El Paso county has experienced 4006 new cases. As of Nov. 17, the county total is 19,031 and the state's total amount of cases is over 169,000.
To date, there have been 233 deaths in El Paso County as a result of COVID-19, with the latest death reported on Nov. 15. Most of these casualties are in a high-risk age category, but two of the individuals who died were in their 20s — one as recently as Oct. 21 — according to the El Paso Public Health Data and Analytics.
As a result of steadily increasing case numbers, El Paso County has moved into the Level Orange: Safer at Home – High Risk Category on the state's dial framework, as of last Friday. This framework was enacted based on the positivity rate of the county and daily hospital admissions.
Restrictions under the Orange category include limiting personal gatherings to no more than 10 people from two households and limiting most establishments and events to 25 percent capacity to allow for social distancing.
The next level on the dial framework is Level Red: Stay at Home. El Paso County could qualify to move into this category in the future if case numbers continue to increase.
If you are experiencing symptoms of COVID-19 or may have been exposed, stay home, contact a medical provider and continue to follow CDC and local government guidelines to protect yourself and the community.

Editor's Note: This UCCS COVID-19 data represented in this article is based on numbers reported on the UCCS COVID-19-Ready Dashboard at the time of publication. All data represented in the article is up to date as of Nov. 17 at 1:00 p.m.