From Liberia to the U.S., Denver to Colorado Springs, the Curry twins' story is one of triumph with their UCCS graduation next month.
Sandra and Tamara Curry were born in Houston but raised in Denver by immigrant parents who are from Liberia.
"Our family comes from a small country in West Africa, called Liberia," Sandra shared via email. "Our parents immigrated from Liberia to create more opportunities for our family."
Those opportunities are fast approaching, as Sandra plans to pay it forward by becoming an educator and Tamara hones her marketing passion with 5280 Magazine.
"I am passionate about working with children to build on their strengths," Sandra wrote.
She went on to share how her parents' hard work and determination inspired her to do the same as an elementary teacher.
"As a little girl, I struggled to learn how to read, but my parent's sacrifices have always pushed me to continue to work hard," she said.
And it's more than aspiration and dreams for Sandra. Upon graduation with a major in inclusive elementary education, she'll be teaching upper elementary students at an International Baccalaureate school in Denver. She is excited to motivate kids to believe in themselves and never give up, just like her parents did while she was growing up.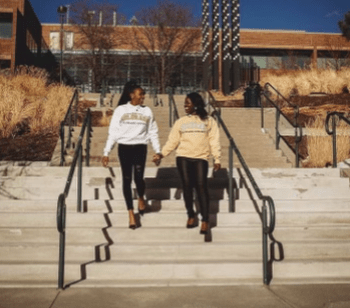 "My parents have instilled in me the attributes of being a hard worker," she said. "As a future elementary teacher, I want to instill in my students the importance of not letting our challenges define us, but instead using our challenges to motivate us to reach our goals."
While Sandra moves on from UCCS to transform the leaders of tomorrow, Tamara is moving into the business sector, taking a job in marketing.
After graduating this May with a business marketing major and entrepreneurship minor, Tamara will begin working at 5280 Magazine as a marketing and advertising coordinator.
"I am extremely blessed to have the opportunity to join a creative team to grow and continue my passions," she wrote via email.
But her passions don't stop with fashion and marketing. They go beyond her, and just like her sister, she wants to make a larger impact on the world around her using her passion for fashion to inspire the women around her.
"I am currently working on launching my very own brand catered to women's business and dresswear, Moti's House," Tamara said. "My mission with creating this brand is to allow women to feel beautiful, stylish and heard regardless of their shape and size."
Just like Sandra, the inspiration for this business also came from their Liberian mother. She shared how her mother's closet was a place of freedom and expression, a place where she could always find exactly what she wanted.
"The name 'Moti's' stem from my mother's name as she is the root of my passion for fashion and growing up, I always went to her 'house' or closet to find just what I needed," Sandra said.
The Curry twins' parents came to the U.S. to provide more opportunities for their family. They did that. But even more so, they inspired their girls to inspire others. Their mother's fingerprints will be on every paper of Sandra's students' tests, her essence in every fashion choice at Tamara's Moti's House.
What began as a simple hope has become a generational transformation, and the Curry sisters expressed that they feel so honored by their parents' choice to move to the States.
If you want to learn more about the Curry twins, check out their YouTube channel or keep a look out for them at this year's virtual graduation.