Samantha Udell first stepped onto the ice when she was two years old; she was at her brother's birthday party at an ice rink. At first, her mother refused to put her anywhere near the ice, but after a persistent crying fit, she reluctantly placed Udell onto the rink. Miraculously, Udell stopped crying.
Now, Udell is a national figure skater and a UCCS sophomore majoring in biology.
Originally from Phoenix, Udell moved to Colorado Springs in order to advance her skating career, taking full advantage of the skating amenities the city had to offer.
After arriving in Colorado Springs six years ago, Udell quickly found her place within the skating community, uniting with old skating acquaintances, forging new friendships and relationships and perfecting her skills under the watchful eyes of new coaches.
Even now Udell is well-integrated in the skating community at UCCS. She is friends with many other notable skaters like Marai Nagasu, Jason Brown, Karina Manta and Joseph Johnson.
Up until 2017, Udell's discipline was singles skating, a focus she described as revolving around jumps, spins and step sequences. From 2017 onward, she moved into a new discipline, one that focused on edges and the execution of turns — ice dancing.
Ice dancing, according to Udell, was much more intricate than singles. Firstly, she was not skating alone but with her brother. Secondly, ice dancing required her to "play the character," which involved engaging closely with the music and executing the choreography.
"I love to perform," Udell said. "I've always been one to entertain others. I love being a source of light and happiness to others, and it's always been a stress relief when I step on the ice. Everything from the outside world disappears. I am in the moment. Perform for the audience and give them something to enjoy."
Aside from her countless singles awards, Udell recalled that her proudest achievement was competing at the 2019 U.S. National Championships with her brother.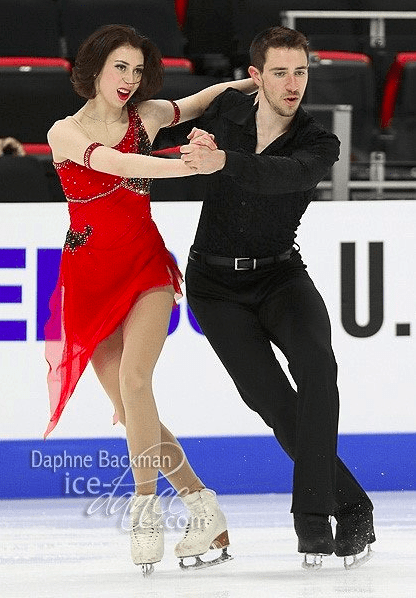 Nationals is a competition that draws out skaters from across the U.S., from all the skating disciplines. A high placement and a strong performance in Nationals can help to solidify a spot in international competitions or even the Olympics.
"Everyone is trying to reach the same goal. You meet everybody within the sport. It's such a small world, but there are so many different people and countries that are involved within the sport," Udell said.
Udell's typical day consists of oscillating between the rink and her classes. In the morning, she usually wakes up and plans her day. She begins by training in the rink, possibly listening to her lectures while skating, before attending class. Immediately after class, she goes back to the rink, and then works out with a trainer. After, she yet again trains at the rink and eventually goes back to classes.
With the pandemic, Udell did not find it difficult to transition to remote learning, since she was already homeschooled until college, but she wishes to return to in-person classes soon. Her greatest struggle during the pandemic, however, was the closure of the ice rinks.
"With skating, it was a little difficult. For a while, all the rinks across the nation had closed. There were no competitions, and no rinks were open," Udell said.
Before the pandemic, Udell skated for around six hours each day, so going to zero hours of training was particularly difficult for her. However, Udell is still hopeful for the future.
For the time being, Udell described her future goals as realistic but still aspirational. She hopes to someday go to the Olympics and is actively working to achieve this goal. She also plans to become either a dermatologist or a naturopathic doctor focusing on holistic medicine.
In her free time, Udell enjoys listening to music, hanging out with friends, playing video games and relaxing.
Udell is currently searching for a skating partner based in Colorado Springs.