Joy Webb, Annika Schmidt, and Cambrea Hall
The student-body leaders have taken up their newly appointed positions on student government with two things at the forefront of their minds: student outreach and safety.
President Aidan Meadows and Vice President Rachel Cauwels are tasked with leading the student body during one of the most unconventional semesters in recent history. They are now not only leaders, but role models during a public health crisis.
Cauwels expressed the importance of student vigilance in order to keep campus open and operational. "I think it very much depends on what our students, faculty and staff decide to do. It's up to us if we want to decide to stay," she said. "Wearing your mask and washing your hands and not touching things and not going to parties is what it's going to take."
Meadows revealed that SGA is also in the process of building a way for students to anonymously report COVID-19 guideline violations perpetrated by either students or faculty. He believes that the school will stay open if everyone follows these guidelines and holds others accountable. "I want to stay [at UCCS]; I know that's the general sentiment of all students," Meadows said.
As a result of the pandemic, their approach to leadership has been revised.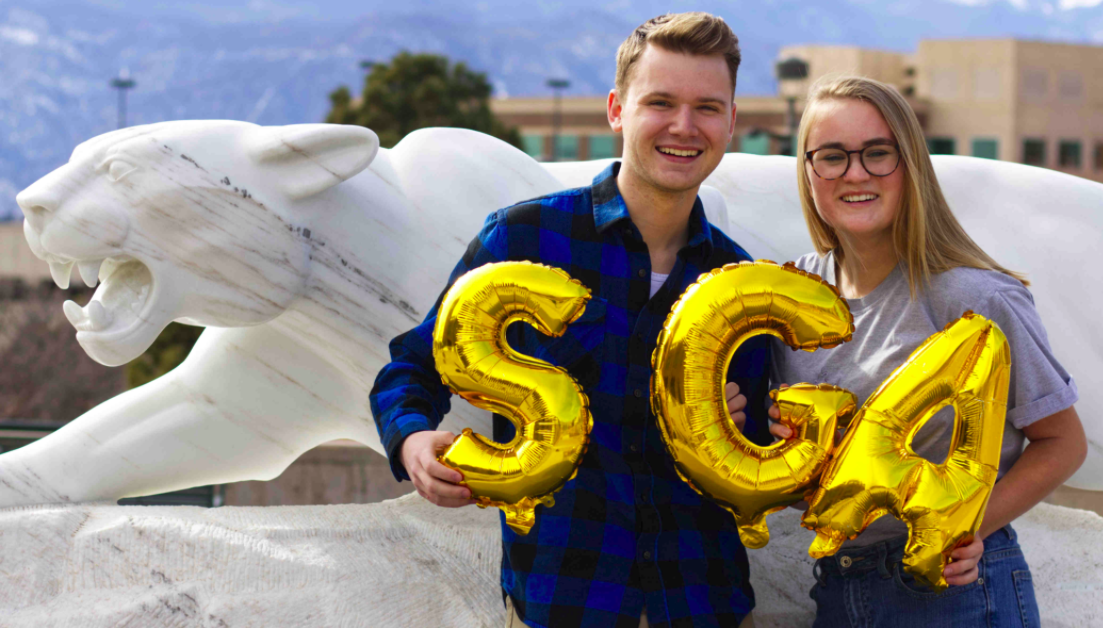 "I think this year we are focusing on those grassroot student efforts," Meadows said. "Especially with the pandemic and COVID going around and messing up our lives, we really have found that we need to control and advocate for what we can, rather than these grand ideas that we may have had last semester."
Student government plans to make their online presence prominent in order to hear and address student concerns. "One of the projects that I'm taking on is trying to, as part of being more accessible, be more recognizable on campus because we can have as many office hours as we want and we can go out to all these different events, but if we as an organization aren't recognizable to students, then none of that is going to matter," Meadows said.
One primary concern of students thus far is the modified shuttle routes. Several shuttle stops will not be in service for fall 2020 due to current public health restrictions.
"One of the biggest frustrations was that shuttle routes skipped over the Alpine stop and also skipped over that bus stop outside of Copper, which are the two biggest locations for picking up residents around campus, and that was a really big one especially now that the Hybl just opened," Meadows said.
"There isn't a lit sidewalk or even path all the way down from Alpine to the Hybl, and so for students who either didn't know about the bus stop or didn't want to walk out of their way to get on the bus, that was a really dangerous issue."
According to Cauwels, student government recently connected with Jim Spice, executive director of parking and transportation, on the issue, and he was open to hearing what they had to say about bus routes. They are working to resolve the issue and will be adding new routes soon.
SGA is also investigating solutions to student concerns over the dining halls. In the past, the Fork was open on weekends, but is now is closed on Saturdays and Sundays. The Lodge is open on these days instead. Students have expressed discomfort eating at the Lodge as a result of the smaller space and would prefer eating at the Fork, which has a larger capacity.
When asked about Black Lives Matter, both student body leaders expressed support of the movement as individuals. "I will say right here, I stand with the Black Lives Matter movement," Cauwels said. "I will not speak for SGA because I don't make our viewpoints. I will speak as me, and I think that's where we need to start is speaking as ourselves and doing the best with what we have."
SGA is making strides to be more accessible and recognizable on and off campus. They are working through the ideas of a logo change, increased advertising, opportunities to connect more with students at events and an update to their website.
For more information on SGA and their initiatives, as well as office hours and virtual meetings open to all students, visit https://sga.uccs.edu/.