"Raya and the Last Dragon" is Disney's latest obligatory princess movie with furry animal friends, goofy side characters and merchandise galore. Initially, I wasn't all that excited for this film, since it just seems that Disney uses a very specific and repetitive formula to craft cinematic successes such as "Tangled," "Frozen" and "Moana."
What changed my mind, however, was the origins of these characters. While Raya and the other characters in this film are from a fantastical land called "Kumandra," director Don Hall has acknowledged that the settings were directly inspired by Southeast Asia.
Being originally from Vietnam, a country in Southeast Asia, the only other Asian Disney princesses that I could really look up to were Mulan and Jasmine. Both of these two personalities are from very differing parts of Asia than I am, so Raya sparked hope within me.
Like a giddy child, I was ecstatic that I realized Raya actually looks like me! (Personally, though, I think she looks more like my twin sister, but others would say we are fairly identical anyway.)
While I hate to give the inflated and egotistical company that is Disney a pat on the back, I am happy that they were able to capture features of Southeast Asia in the animation from landscape to facial features and body types.
     Thinking beyond myself, it genuinely makes me pleased to know that other Southeast Asian people, whether they are children or adults, can find a role model in Raya and will be able to identify with her. Extending past race, where we come from or the color of our skin, I am certain that anyone can find a piece of themselves in Raya.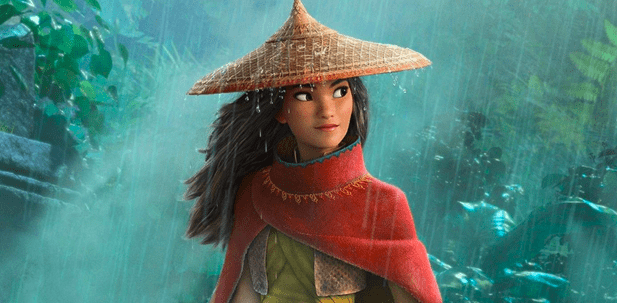 The movie has its issues, but overall, I was refreshed by the fact that Raya is both funny, sweet and badass. Even more so, I hope that people will be able to appreciate Asian culture through this movie as much as I did.
The movie felt very much like Nickelodeon's "Avatar: The Last Airbender," as Scribe reporter William Pham observed in a preview of the film. I love "Avatar" with everything within me, and this, in a way, felt like a continuation of that, just more Disney, of course.
Like the four nations of "Avatar," there are five lands within Kumandra, each with their own kingdoms and people.
The character designs for these kingdoms are fantastic. (Though, the dragons do look like furries.) While most of the characters look similar to others from their kingdom, none of them look like a copy-and-paste. I'm looking at you, Elsa and Anna.
The downside of having such a vast world and so many characters is that it makes the movie feel rushed. I believe the film should have been made into a show or perhaps had a longer runtime since we never get to go too in depth on anything. Rather, we got a brief explanation (if any) and moved on with saving the world. Overall, for what it was, I did find myself enjoying it
I genuinely believe that "Raya" is important for representation — especially for people from Vietnam, the Philippines, Indonesia and other Southeast Asian countries.
Taking it a step further, Disney made sure to hire a Vietnamese actress to voice their new princess, recruiting Kelly Marie Tran for the role. Several other voice actors in the cast were also Asian, which was nice; for example, Awkwafina as the extravagant Sisu and Gemma Chan as the oscillating Namaari.
"Raya and the Last Dragon" is most certainly a Disney movie, but it will still leave you smiling and hopeful for future representation that is yet to come.