The Reggae Pot Xpress is a family-owned restaurant located in southern Colorado Springs that specializes in Jamaican dishes. Due to moving locations in May, the staff are currently working out of a food truck on Chelton Road, which has been garnering people's attention with its blazing red exterior.
Personally, I had never tried any foods from a Jamaican restaurant and, as such, was anxious about the process. I'm the type of girl who will find a small selection of restaurants and order the exact same thing every time. I had never even considered leaving my comfort zone of Chinese, Chipotle and fast food.
However after The Scribe's Kaylan Hardin recommended the Reggae Pot Xpress during a meeting, I found myself uncharacteristically wondering if that was something I would enjoy.
My family tends to eat dinner together every Sunday and so, huddled around the table and surrounded by familiar faces, I expressed my concerns to my father on branching out to Jamaican food. If anyone in my family was going to be the least picky about food, it was most certainly him.
It was further in the evening when my father volunteered to take me by the Xpress food truck the following Thursday. He was curious about what dishes they offered and has always been adventurous with foods (except for Brussels sprouts).
Before we could venture to the food truck itself, Hardin informed me that this business was started by her friend La-Doniea Nisbeth and Nisbeth's mother. I was able to reach out to Nisbeth via text and asked a few questions about how their restaurant came to be.
Nisbeth's mother, a certified chef, founded the restaurant in May 2015 in order to support her family. Nisbeth explained that they selected Colorado Springs as their desired restaurant location because this is where her family lives.
     In June 2016, Nisbeth's mother had the opportunity to cater Jamaican food for the U.S. Air Force Academy graduation, where former President Barack Obama gave a commencement address. That was perhaps the most interesting aspect that stood out to me — after all, how many people can say that they served a president food?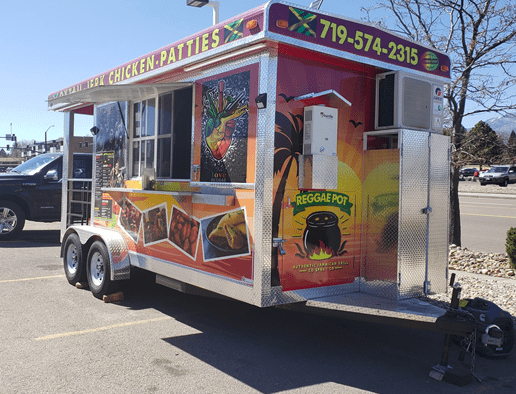 Concerning the plates themselves, Nisbeth remarked that her favorite dish is the ackee and saltfish, which is also the Jamaican national dish. Her recommendations for me and my father, however, were a reggae patty, the jerk chicken, and a fest meal, the oxtail.
As the food truck came into view, I kept those recommendations in mind. My father had the brilliant idea to request of the employee "a little bit of everything on the menu" which, to my surprise, he did for us.
It was certainly an unusual request, and I was fully prepared for them to say that was not an available option, but they happily obliged. (Seriously, the employee was so kind and accommodating. They have fantastic customer service.)
We get a taste of various chicken dishes, vegetables and mac and cheese which allowed us to really experience Jamaican food.
I was completely unfamiliar with how this food is typically prepared, and I had never eaten goat or ox, as far as I could recall. I have a rather bad habit of assuming things I have never tried are probably not good, especially in regards to food that is different from that of Western culture.
Imagine my surprise when I found myself shoveling food into my mouth without hesitation and stuffing myself until the point of needing a post-meal nap.
The steamed cabbage with spices was by far my favorite dish despite it only being a side to complement an entree. I can respect a perfectly steamed cabbage, as it is my belief that cabbage is gross and can only be made edible with proper care. I was worried that the spices in it would be overwhelming, but that was not the case.
The rice was average, especially since I typically prefer white/steamed rice given the choice. Each piece of rice was neither too hard or too soft, resulting in a half crunchy texture when between one's teeth, which I liked.
The mac and cheese was made with real cheese, which I am personally not used to because, as a college student, I indulge in cheap noodles like Kraft. If you enjoy real cheese, you would absolutely love this dish. I found it to be the most dull of everything on the plate, but it did a great job balancing more savory dishes.
The sweet potatoes were quite good, which is a stellar rating from myself — a girl who hates sweet potatoes and would much prefer a normal potato.
There were plenty of chicken dishes among the entrees that I would eat again, though I'm not a fan of chicken typically. The sauces and spices used were quite good and allowed me to jump past that bland white meat taste.
The meal kept me full for the rest of the day, and I have not stopped thinking about the steamed cabbage since.
Overall, my father and I really enjoyed our experience, and I absolutely would go to the Reggae Pot Xpress again, given the chance.
Cheers to Nisbeth and her mother for creating such a fantastic Jamaican experience!
You can call 719-574-2315 to place an order between the hours of 11 a.m. and 7 p.m. The Reggae Pot Xpress truck is currently located at 1117 S. Chelton Road.
Pick-up orders are particularly welcomed at this time, and it should be noted that there are no places to sit nearby the truck, so customers will have to take their food to go or eat within their vehicles.